3144 Hall Effect sensor Outline
When the "S" pole of magnet faces the mark surface of the sensor and is closed to sensor (B≥Bop),the sensor outputs low level; When magnet is far from sensor(B≤ BRP),the sensor outputs high level. When the "N" pole faces the mark surface,the sensor is no response. Stable Hysteresis((BH= |BOP- BRP|)ensure the Stable sensor's switch status. The magnet and electric transfer characteristic curve is shown as the figure: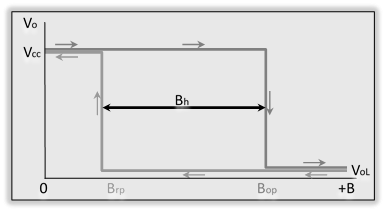 ◆ 3144 Hall Effect Block Diagram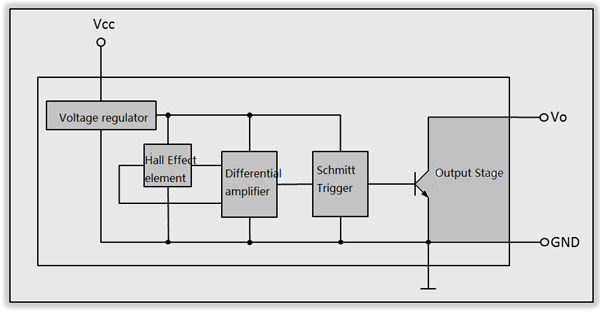 Hall sensor AH3144 is one of unipolar excitation single-ended digital output Hall IC. The sensor chip has built-in reverse voltage protection, voltage regulators, temperature compensation circuit, Hall-voltage generator, signal amplifier, Schmitt trigger and open collector output driver circuit unit etc. Excellent voltage regulator and temperature compensation circuit ensure the sensor stable operates over a wide voltage range and temperature range, and the reverse voltage protection circuit avoids the sensor to be damaged by reverse voltage.
◆ 3144 Hall Effect Limit Parameter
| | | | | |
| --- | --- | --- | --- | --- |
| Parameter | symbol | Min. | Max. | Unit |
| Storage Temp. | Ts | -55 | 175 | ℃ |
| Supply Voltage | VCC | 3.5 | 28 | V |
| Output Cut-off Voltage | VO(off) | — | 25 | V |
| Magnetic Induction | B | unlimited | unlimited | mT |
| Output Current | IO | — | 50 | mA |
◆ 3144 Hall Effect Electrostatic Grade
Under human being mode, the Electrostatic compression is large than ±6kV.
◆ 3144 Hall Effect Operating Condition
| | | | | |
| --- | --- | --- | --- | --- |
| Parameter | Symbol | Min. | Max. | Unit |
| Supply Voltage | VCC | 4.5 | 24 | V |
| Operating Temp. | Ta | -40 | 150 | ℃ |
| Output Current | IO | — | 5 | mA |
◆ 3144 Hall Effect Electrical Characteristc
Paramater
Symbol
Test Condition
Typ.
Max
Unit
Output Low Level
VOL
VCC1=4.5, VCC2=24V, IO=25mA,B≥BOP
0.2
0.4
V
Output High Level
VOH
VCC1=4.5, VCC2=24V, IO=25mA,B≤BRP
23.5
24
V
Output Leakage Current
IOH
VCC2=24V,VCC1 Open circuit
0.1
10
μA
Supply Current
ICC
VCC1=24V,Vo Open circuit
3.5
8
mA
Output Rise Edge Time
tR
VCC1=VCC2=12V,
RL=1.2kΩ, CL=20pF
125
150
ns
Output Fall Edge Time
tF
60
80
ns
◆ 3144 Hall Effect Magnetic Characteristic
Test condition:VCC1 = VCC2 =24V,IO = 50mA
Parameter
Symbol
Min.
Typ.
Max.
Operate Point
BOP
—
—
25
Release Point
BRP
3
—
—
Hysteresis
︱Operate point-Release point︱
BH
︱BOP-BRP︱
2
—
6
Note 2: When the "S" Pole of the magnetic field is vertical to the front mark of product, we call the magnetic field B>0.Note 1: Unit is mT, 1mT=10Gs.
◆ 3144 Hall Effect Package Ourline
SOT23-3L(M type)Package figure(Unit: mm)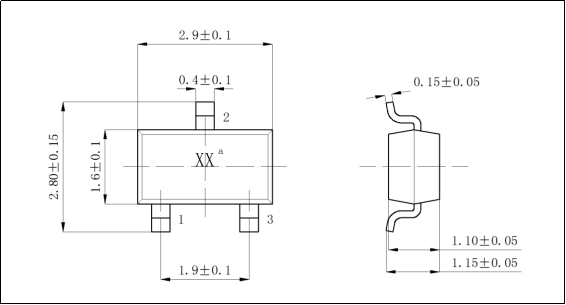 SOT89-3L(S type)Package figure(Unit: mm)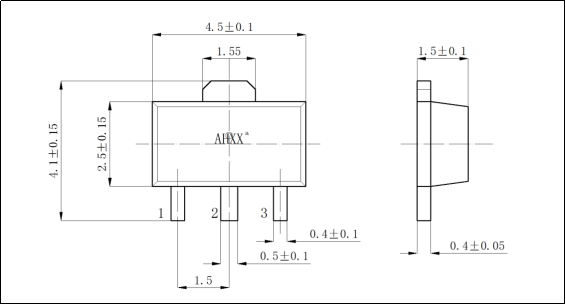 TO-92UA/TO-92S(UA type)Package figure(Unit: mm)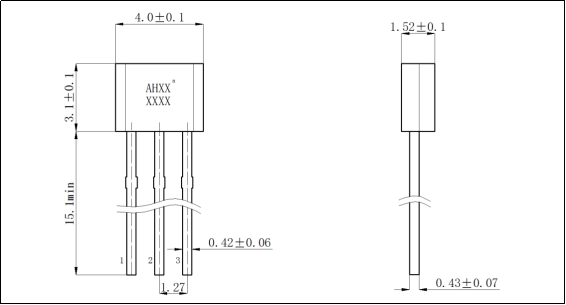 Note: In the above package outline figure, Pin1: Vcc, Pin2: GND, Pin3: Output terminal.
Mark
Mark "XX" or "AHXX" are abbreviation form of the parts No., the second line"XXXX"means product lot No.
Appropriate for Automotive as well as Industrial Applications.
Keep in mind: To recognize why these specifications are very important read even more. Additionally the A3144 hall effect sensor datasheet can be located at the bottom of the page.
Where to make use of hall-effect sensor:.
A hall-effect sensor as then name suggests works with the concept of hall-effect as well as is utilized to discover magnets. Each side of the sensor can detect one particular pole. It can also be conveniently interfaced with a microcontroller because it works on transistor reasoning.
So if you are looking for a sensor to detect magnet for gauging speed of a relocating object or simply to find items then this sensor might be the ideal option for your task.
Just how to make use of Hall-effect sensor:.
There are two major kinds of hall-effect sensor, one which gives an analog result and the other which gives a digital result. A3144 is a digital output hall sensor, indicating if it discovers a magnet the outcome will certainly go reduced else the output will stay high. It is likewise necessary to make use of a pull-up resistor as revealed listed below to maintain the outcome high when no magnet is discovered.
The A3144 is an integrated Hall effect non-latching sensor. Holding a magnet near the sensor will trigger the outcome pin to toggle. This makes for a robust visibility sensor. A reed sensor also works nicely, but can be restricted by the glass encapsulation and size.
3144 Hall Effect Applications:.
Utilized to identify magnets( objects) in automation systems.
Used in magnetic door security system.
Procedure rate in autos.
Discover the pole of magnets in BLDC electric motor.
3144 Hall Effect: https://www.ahest.net/uploadfile/2017/0901/20170901031146831.pdf
If you want to know The difference between a3144 and a3134,click here